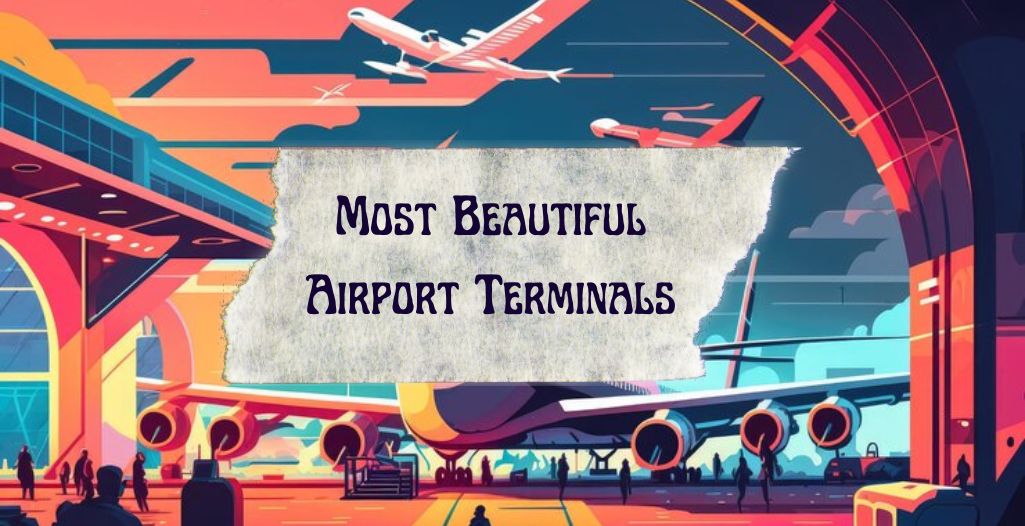 All over the world, there are some of the most beautiful airport terminals. Some of these terminals can be seen at airports such as Madrid Barajas Airport in Spain and Istanbul Airport in Turkey. Their unique shapes, appealing interiors, etc., are all noteworthy. The architecture of these terminals is spacious. With new cutting-edge designs and facilities, almost every air carrier receives benefits. Also, these terminals help provide passengers with pleasant trips. Further, with their remarkable structures, the airlines can manage millions of travelers each year. The new design and architecture enhance the whole flying experience beyond just accommodating the increasing number of flyers.
What are the 10 Most Beautiful Airport Terminals in the World?
There are 10 most beautiful terminals that offer incredible structures to the buildings. Modern facilities and technologies are ensured too. Marrakech Menara Terminal and Paine Field Terminal are a few of the exceedingly beautiful buildings. Although the designs and layouts of these vary, they are unquestionably efficient, attractive, and reliable airport terminals.
MAD or Madrid Barajas Terminal 4:
In Spain, Terminal 4 of Madrid Airport is one of the places with unparalleled beauty. Richard Rogers, a former business partner of the architect, Norman Foster, designed Terminal 4 at this airport. Despite having less developed designs and commercials, T4 has been created more distinctively.
T4 is remarkably well-designed, due to its modern construction.
The main constructed areas include:

Color-coded signage group gate instructions
Multi-level pathways to lessen traffic on each level

Although T4 is packed, it never seems over-congested.
IST or Istanbul Airport Terminal:
The main terminal of Istanbul Airport, Turkey, is considered among the top beautiful buildings. A London-based company created Istanbul's aviation icon. It clearly draws design cues from the city's richly decorated, pattern-filled Ottoman past. Its terminal features an enormous, vaulted ceiling, and many skylights.
A convenient feature for customers is available at more than 200 shops and eateries.
Passengers going through several areas can use these facilities. The areas include

Checkpoint
Security
Passport control

The transit area of the terminal is shaped like the Bosporus.
Its air traffic control tower was purposefully built to resemble Turkey's national flower, tulip.
Tokyo Haneda International Airport Terminal:
For the most alluring airport terminal, passengers can choose the HND or Tokyo Haneda International Building, Japan. This airport terminal is illuminated by the Edo markets. It hints at traditional Japanese construction. Here, everything from upscale restaurants to high-end clothing stores is observed.
The Ema, a sort of wishing tablet used by Shinto or Buddhist worshippers, is located here.
It received second place in the global airport rankings for the year 2021.
Chhatrapati Shivaji International Airport Terminal:
Terminal 2 of Chhatrapati Shivaji International Airport (BOM) is among the most appealing buildings. It is the second busiest airport terminal in India. Its services certainly attract passengers but so does its design.
In Mumbai, T2 was designed in the style of the peacock, the country's national bird. The peacock-tail is designed on the roof. It appears to have 1000 white peacocks. Also, it makes it particularly clear as people look up.
The largest program for public art in India is located at T2 of BOM Airport.
It takes the shape of a nearly two-mile-long art wall.
The features of the same are over 7000 works of art and artifacts.
These artifacts are from Mumbai as well as other regions of India.
This art wall is lit by skylights, making it further attractive.
Denver International Airport Terminal:
One of the terminals with the best highlights in its design is present at DIA or Denver Airport. It was erected in 1995 in Colorado's Denver. Curtis Fentress created this airport terminal. The inner area of the same is bathed in natural light. It is because of the fiberglass roof's Rocky Mountain-inspired design.
Every terminal houses a permanent art collection.
It is enhanced by multiple things. They consist of:

Sculptures
Installations
Murals

As travelers hurry to catch a flight, a tribal chanting audio installation plays.
It plays at the passageway between two locations. They include:

Concourse A
The Jeppesen Terminal
PAE or Paine Field Airport Terminal:
The terminals of Paine Field Airport in Washington State are regarded as the most stunning. They were formed by Fentress Architects. Here, the German-imported glass was used in the construction of the jet bridges. With these, the boarding procedure is made more aesthetically and less constricting.
Further, different features are observed here. They consist of:

A wall covered in limestone
Two fireplaces
A 30000 square foot area
Two gates
Leif Erikson Air Terminal, Keflavik, Iceland:
The cozy small international airport terminal in Iceland appears attractive and the most beautiful. Keflavik Airport is entirely made of blond wood as well as stone. With these, it looks like a volcano. Its large windows look out into the stunning Icelandic countryside. Also, Leif Erikson Air Terminal seems much more bathed in the hues of nature.
Singapore Changi Airport Terminal:
Singapore Changi Airport Terminal is counted among the top spectacular buildings. Along with this, it has been named the greatest airport globally. The 130-foot-tall Tin Vortex is accessible to travelers. This is the tallest indoor waterfall in the world. It is made possible with the help of the beautiful Jewel Complex.
In the evening, the Rain Vortex sparkles to life with a captivating light display.
It lasts for around 5 minutes.
Jewel is a pleasant sensory stimulation available here.
It is for travelers passing through Singapore.
Other features are also added to this airport terminal. They include:

Over 280 food and shopping outlets
A 1400-tree forest
Unique attractions
Beijing Daxing International Airport Terminal:
A significant terminal in China is linked to Beijing Daxing International Airport (PKX). It was built by the renowned Zaha Hadid Architects. Its airport terminals are connected to a main hall. Due to this, it is frequently compared to a starfish. Further, the layout draws on ancient Chinese architectural concepts.
Linear skylights run the length of every 5 airplane docks.
It is made possible at the largest single-terminal.
The symmetric design is observed here.
It guarantees that the closest boarding gates take a few minutes.
They take around 8 minutes to reach on foot.
RAK or Marrakech Menara Airport Terminal:
An aesthetically pleasing solar-powered building is Terminal 1 of Marrakech Menara Airport, Morocco. It combines Moroccan design elements like a tall glass dome ceiling. Along with this, intricate geometric patterns, as well as mosaic tiles with contemporary building techniques are a part of it.
The building structure is covered with stylized Islamic decorative motifs.
Aluminum panels are included too.
These features illuminate the terminal with light and brightness.
They shift as per the day and night time.
As a Final Observation,
Airport terminals, such as Beijing Daxing and Singapore Changi are exceedingly beautiful buildings. The capacity to accommodate a sizable number of flyers each year is growing because of these airport terminals' physical designs. With the architectural design, modern facilities can be expected.